It all started
from humble beginnings...
On a sunny spring morning in 1954 a young entrepreneur, by the name of Scot, picked up a squeegee and made his way around Toronto offering to clean storefront windows for the cut-rate cost of 5 cents. He took great pride in his work, and he quickly developed a reputation as one of the most trusted and hardworking window cleaners in Toronto.
His work ethic and passion for cleaning did not go unnoticed by his customers. By late 1954 Scot began offering janitorial services and realized he would need to incorporate a company. This was the birth of British North American Window Cleaning & Janitorial.
As winter in 1978 approached Scot had become quite influential in the commercial cleaning industry. He expanded into Calgary and figured it would be an opportune time to rebrand the company to better express his vision. British North American became Impact Building Maintenance.
Simultaneously in that same year, in the north end of Toronto, Chris Boutsalis began his first day of work in the cleaning industry…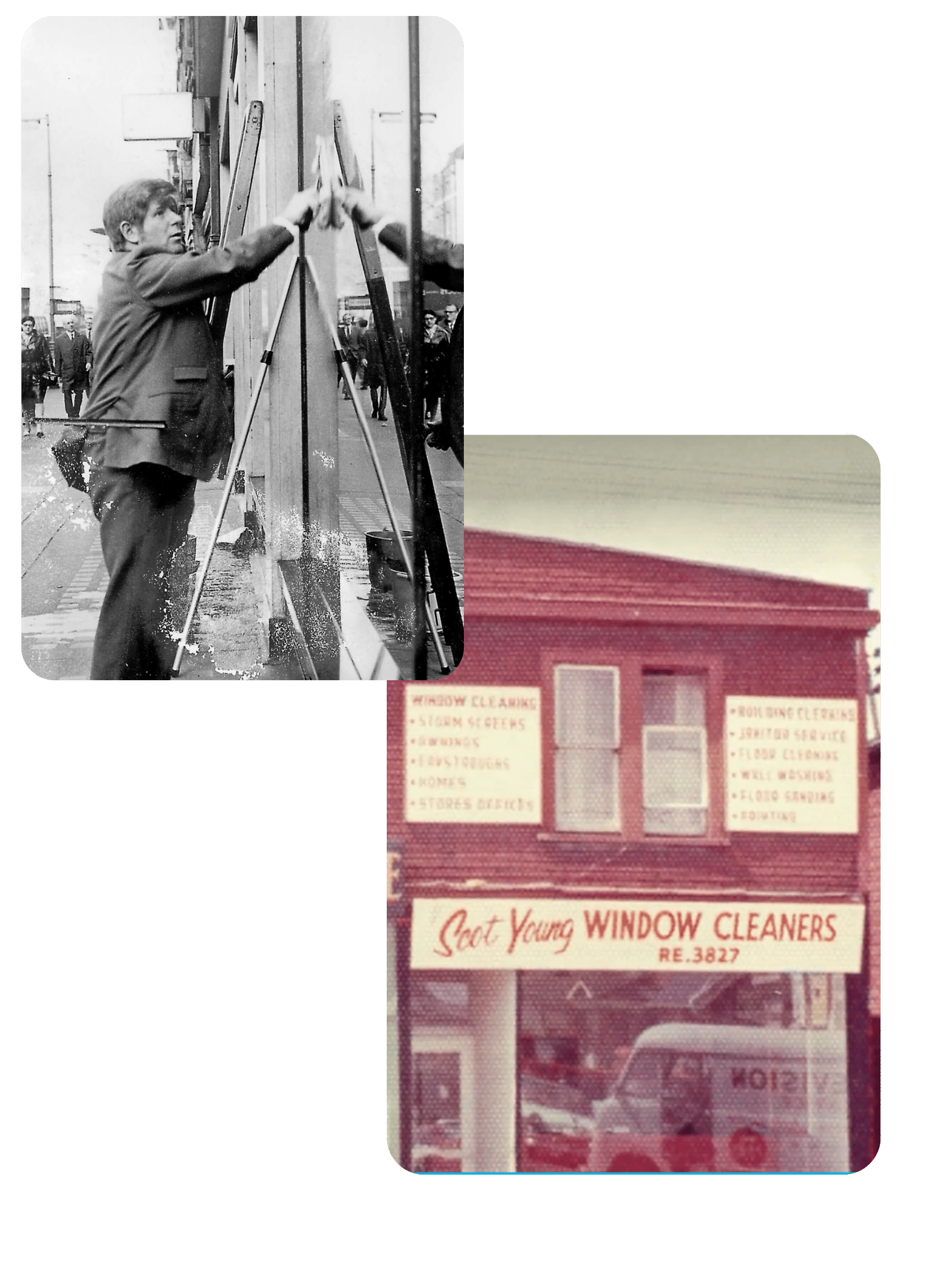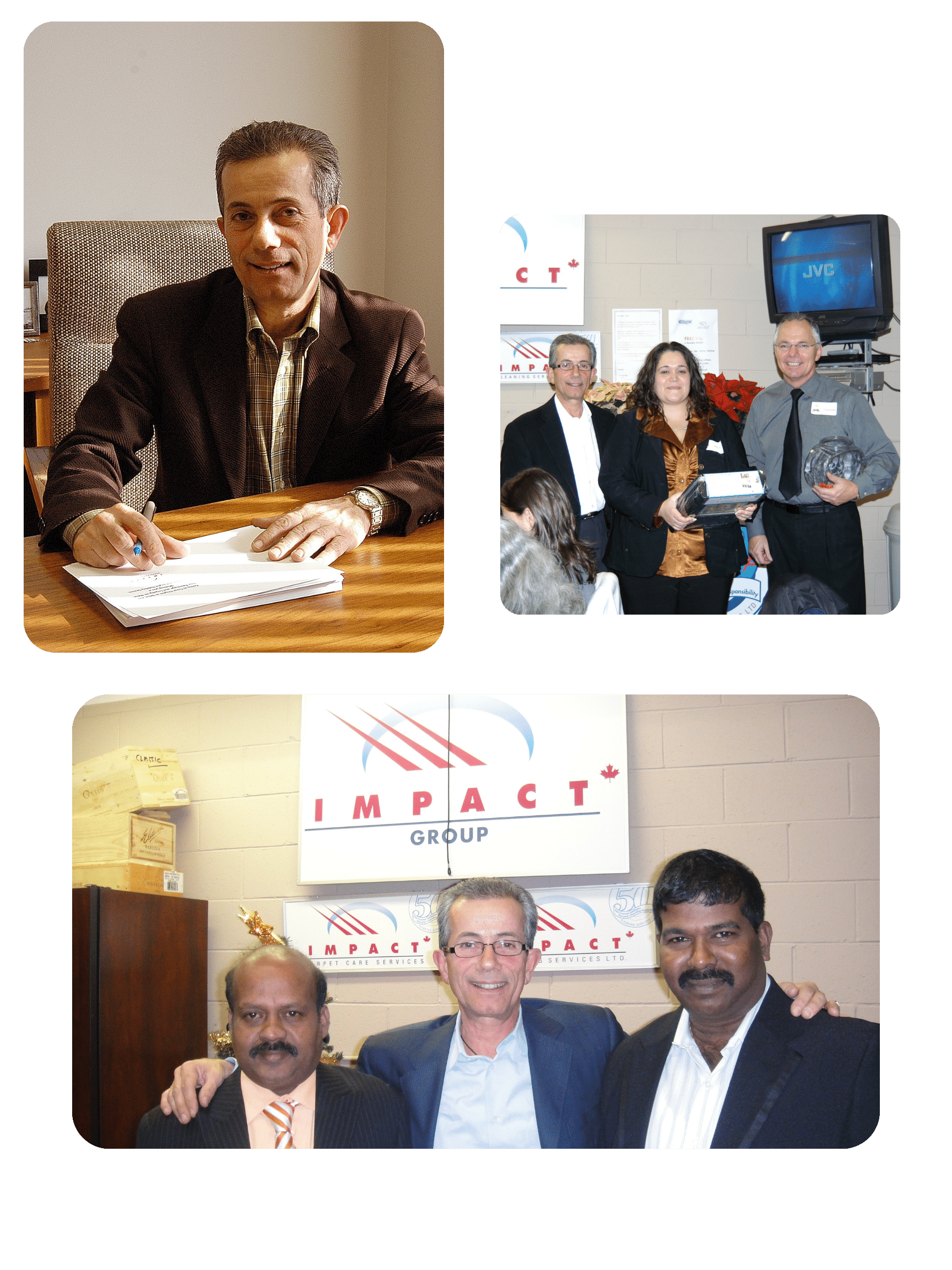 While remaining
rooted in family
Born and raised in a small town in Greece, Chris Boutsalis immigrated to Canada at 17 years old, with $100 in his pocket (or so he says…). After a stint working in the hospitality industry, and a shorter stint owning his own restaurant, Chris decided to take a job as a salesman with a small cleaning company. Chris had a knack for customer service. By 1979 he was promoted to Operations Manager, and by 1980 he was named Vice President and became a partner in the business.
Through the 80s Chris continued to grow his business and quickly became the largest cleaning provider to the hospitality industry - at one point servicing the seventeen largest hotels in the Greater Toronto Area. But by the early 90s the music stopped, and the recession had begun. Chris' four largest customers declared bankruptcy and Chris had to act quickly to ensure his company wasn't next.
Through most of the 90s Chris had shifted his focus to mergers and acquisitions. Countless cleaning companies were struggling to stay afloat, and Chris saw this as an opportunity. In 1997 Chris would merge his company with Impact Building Maintenance and narrow their focus to janitorial services. The company would rebrand as Impact Cleaning Services.
By the early 2000's, after a decade spent navigating some tough economic markets Chris would become President, and sole shareholder, of Impact Cleaning Services. Chris was recharged and ready to take Impact to new heights. Around this same time, his three children took their first part-time jobs with the company. George would work as a porter in a regional mall, Yiannis was tasked with heavy duty work at a Bay Street office towner, and Georgia got involved in administration work at Impact HQ.
As we look forward
to a cleaner future!
After completing their university degrees George, Georgia and Yiannis joined Impact full-time, each on a different team. Over the past decade they would each find their niche and take on leadership roles on their respective teams. George is responsible for business development and innovation, Georgia is focused on people, and Yiannis handles the companies finance and administration.
As Impact has evolved immensely over the past seven decades, the Boutsalis family has brought in some of the industry's best and brightest to help guide the company, now it's second generation of ownership. Paul Raftis has overseen the company's finance and operations teams for the past twenty years and continues to help push the company forward. Lucy Reid has been with Impact for almost fifteen years and has spent the past decade running the Ontario operations. Her ability to manage large labour forces, and even larger facilities is like nothing we've ever seen.
While we're incredibly proud of yesterday, and super excited about tomorrow, our focus is on today.
Today, Impact is more than just a cleaning company. Today, Impact is a facility solutions company offering comprehensive services to spaces of all shapes, sizes, and scopes.
Today, our focus is on the small habits and improvements that add up to big impacts over the long run. Today we're focused on being your partner for a cleaner commercial facility!